$13.6M National Cancer Institute Grant Gives Birth to
Johns Hopkins Center of Cancer Nanotechnology Excellence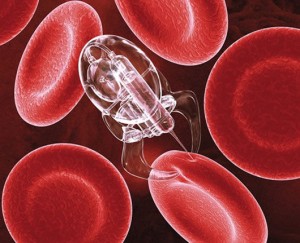 Faculty within the Johns Hopkins Institute for NanoBioTechnology has received a five-year $13.6 million grant from the National Cancer Institute to form the Center of Cancer Nanotechnology Excellence. This new sector within the prestigious Johns Hopkins medical research system is a comprised of engineers, biologists, and physicians who are all focused on the development of nanotechnology-based diagnostics and therapeutic methods for comprehensive cancer care.
Heading the team of seventeen faculty members is Peter Searson. Searson is the director of the Institute for NanoBioTechnology, and will also serve as the director for the Center of Cancer Nanotechnology Excellence. Martin Pomper, professor of radiology and oncology at the Sidney Kimmel Comprehensive Cancer Center at Johns Hopkins and the School of Medicine, is the co-director of the program. The seventeen initial faculty members will be joined by additional professionals as the program progresses.
Four primary projects will lead off the activities of the center according to Searson and Pomper:
Bodily Fluid Cancer Screening – This project aims to create reliable methods for detecting cancer indicators found outside of the genetic code (called epigenetic markers) in blood and urine. Specifically, this project will use semiconductor nanocrystals (also referred to as quantum dots) and silica superparamagnetic particles to detect DNA methylation. The chemical group added to the exterior of DNA through methylation is a biomarker that is frequently associated with cancer.
Curcumin Anti-Cancer Activity Optimization – The Indian spice Turmeric contains curcumin which has demonstrated cancer-fighting properties. Curcumin, however, is too large to be taken up by the blood stream and tissues in the most effective amounts. Engineering nanoucurcumin, which could get in contact with the tumor more readily, may become an effective treatment for hard to reach tumors such as those in the pancreas.
Noninvasive Monitoring – This project focuses on leveraging nanotechnology to noninvasively monitor vaccine effectiveness against cancer and infectious disease
Lung Cancer Nanotechnology – Therapeutic delivery of mucus-penetrating nanoparticles targeting small cell lung cancer tissue.