Custom Branded Sportswear and Other Custom Apparel Around the Workplace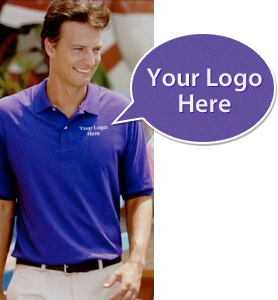 The Baltimore Ravens have gone all the way, and businesses throughout the area are cashing in on custom branded sportswear to mark the occasion.
With football being big business in the Maryland/DC/Virginia area, it isn't hard to see why black and purple apparel can be found anywhere from the usual sporting goods stores, to supermarkets, to hastily raised stands outside of gas stations.
Because of the so called "Purple Fever" that businesses throughout the area are cashing in on, it's become a trend to show adoration for the Ravens.
Still, there are only so many situations where a Ray Lewis Jersey or a Joe Flacco T-Shirt are appropriate.
Because of that, area fans have had to get creative with how they get into the spirit, and custom branded sportswear has been one avenue that they've been exploring as a result.
How Can You Express Yourself While Remaining Professional?
While you might not find many workplaces that requires men to wear full suits and woman to only wear dresses and skirts, there are still guidelines for how to dress in many area workplaces.
Even so, within those guidelines, there are often things that you can do for a look that helps you stand apart while still remaining within your company guidelines.
Let's take a look at some industries and what you should typically strive for:
Industries with Business Casual Dress Codes – Most business places allow for business casual. If yours is like this, then your wardrobe should err on the side of corporate creative.

In many cases, this might mean turning to something like a custom branded polo or button down shirt in addition to your pressed khakis.
Medical/Health Services – Whether your job in the medical field requires you to wear a white lab coat or scrubs; either option can come customized to show your personality.

Consider something with custom embroidery in the form of your name, or a custom pattern that evokes something like your favorite sport. This will be a great way to add some flair to your look when you get ready for work every day.
Retail – Retail is big business no matter where you look, and retail stores cover a wide range of products. As far as custom branded sportswear goes, you can get custom performance clothing for your unloading and merchandising crew in addition to branded shirts for your customer service employees.

The branding can show your company logo and, on special occasions, you can have clothing that can be worn for various promotions and special events.
Other Uses for Custom Branded Sportswear
Outside of clothing for everyday wear around the office, you can also get custom branded sportswear for the team's Purple Friday celebrations, company-wide sports leagues, and corporate gatherings.
Think about things like T-shirts, hats, and other types of performance wear and you'll get a strong idea for what you can do with branded clothing that shows your pride in your work.
Custom apparel for the whole staff, as well as custom embroidered clothing and accessories for individuals is a great way to help your company stand out and you have so many available options over what to choose, that finding something shouldn't be an issue.